10-13 Club Wants You
Charlotte group started in 2007, now has 236 members
By Caroline McMillan
News of South Charlotte
Feb 7, 2011
Harvey Katowitz, a retired NYPD captain, is co-founder and president of the NYPD 10-13 Club of Charlotte, which has grown from thirty-five members to 236 in the last five years.
When officers in the New York City Police Department hear a "10-13" (the signal for "assist police officer") ring out over the radio, they don't hesitate."If someone called a 10-13 you dropped everything and went, no matter what you were doing, "Said former NYPD Capt. Harvey Katowitz, 63. And more than 600 miles south of their former posts that code still has special meaning.
In 2007, Katowitz, a Providence Plantation resident, helped found the 10-13 Club of Charlotte, an affiliate of the national nonprofit organization that helps retired and active law enforcement officers predominantly from NYPD. There are 27 chapters nationwide.
After Katowitz relocated from New York City to Charlotte, he reconnected with a few of his buddies from NYPD, most of whom took jobs in the fraud departments at banks. They wanted to form an affiliate 10-13 club but needed 25 members to do so. It didn't take long for word of mouth to bring them the numbers they needed, and in March 2007 with 35 members, the 10-13 Club of Charlotte was born.
Less than four years later, the club has 236 members, 185 of which are from NYPD. Other members have served in the FBI, Charlotte-Mecklenburg Police Department and various police departments in the state of New York and around the country. Most of them live in south Charlotte and Union County. Members of the 10-13 Club refer to the original group – Katowitz, Bob Hansen, Kevin Gribbon, Norm Lovitch, Dave Schultheis and Ed Weir – as "The Founding Six."
On the last Tuesday of every month, the 10-13 Club of Charlotte gather at the Fraternal Order of Police Lodge No. 9 on Hawthorne Avenue. There's pizza, beer, New York Jets jackets and nary a Southern twang. At the start of each meeting, the members stand for the Pledge of Allegiance and bow their heads for a prayer. Then club president Katowitz reads the names and instances of all the law enforcement officers across the country that were shot or killed on duty in the last month. They follow the list with a moment of silence.
For many members, the 10-13 Club has been an invaluable part of their transition. Club members already established in Charlotte can share who the best pediatricians and dentists for children are, what schools have the best reputations, where to go to get off-duty work. It's an instant community.
Many of the 10-13 Club of Charlotte served in the 1970s and 1980s, when the murder count in New York City regularly topped 2,000 – compared to less than 500 murders in 2009, according to the FBI's Uniform Crime Reporting Statistics.
"We had to watch each other's backs and we developed camaraderie," said Katowitz, who trained some of the 10-13 members when he was the training officer in the Manhattan North Narcotics District. "It was like we were going through a war zone." And as a registered nonprofit, the club organizes various drives and philanthropy. Over the holidays, they collected new and used CDs, DVDs and books on tape to send to troops overseas in time for Christmas. They also collect money to help officers in need. At their January meeting, the 10-13 members collected $250 for N.C. State Trooper Michael J. Hastings and his family. Hastings was in New York with his wife and kids over the holidays, when he slipped down some icy stairs.
After being in coma, Hastings has started the long road to recovery.  The 10-13 Club of Charlotte wanted to put its full support behind the Hastings family."There are people, who recognize the sacrifices they made for us, and they are not forgotten and we are here to help," said Katowitz, who received an award last year as the 10-13 Chapter President of the Year. "If anybody has an issue with anything, we're one big family," said founding member Hansen, 71. "That's what this club is all about," said Katowitz. "Two-hundred thirty-five people are going to come to the rescue."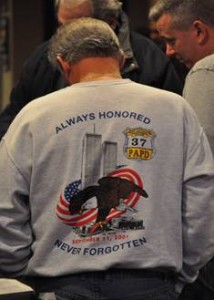 As we approach the tenth year anniversary of 911 our members share the same feelings. We will never forget and always honor those who made the ultimate sacrifice. We must never forget their heroism in carry out their duties. They will never be forgotten.
Retired NYNJ Port Authority Police Officer John Cannizzo wearing a sweat shirt which stated the sentiments of our members.